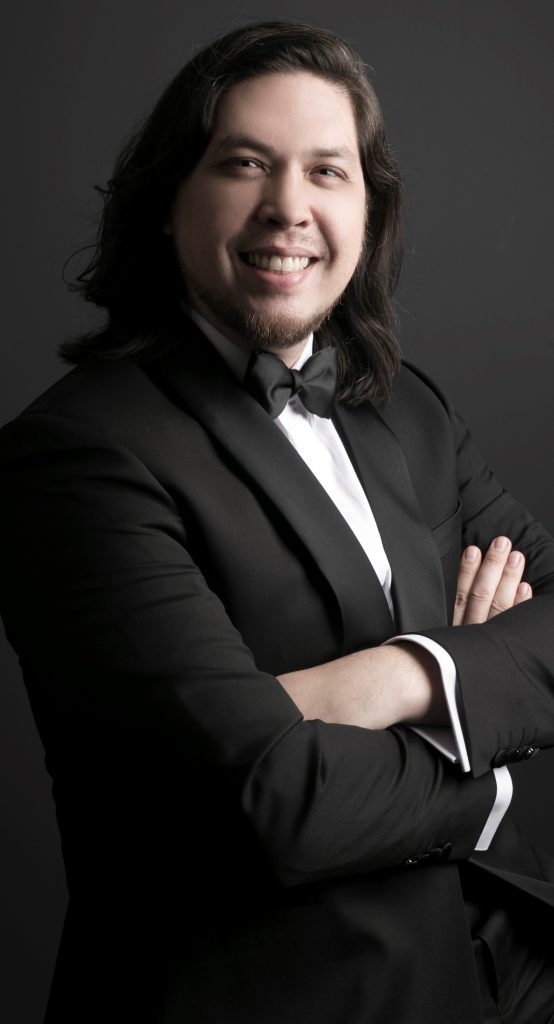 Rene Barrow is a Voiceworker based in Malaysian Borneo and has had extensive experience in providing voice-related services, including emcee work, singing, speech/voice training, and voiceover recording around Malaysia, Singapore and Brunei. He can provide event companies and video producers all the voice services needed for events or productions.

As an emcee, his forté is formal events, and he is most well-known for events that require governmental salutations, weddings and gala dinners.
(For more info see the Event Emcee page)
As a singer and performer, he is most well known for Vintage Pop & Jazz, often performing as a solo act, but most well-known for being the singer, guitarist and banjolele player in the Asif & Rene Vintage Jazz & Jive Band.
(For more info see the Performances page)
As a voiceover artist, he has done everything from documentaries and marketing videos, to radio commercials and narrations for short films.
-PCA Annual Charity Dinner & Show
-Miss Sabah Tourism Pageant
-Kuching Waterfront Jazz Festival (now Kuching International Jazz Festival)
-Miri Country Music Festival
-Gamuda Land – Bukit Bantayan Residences Topping-Off Ceremony
-Remajaya Group – Bay Suites development Grand Launching Ceremony
-Citibank Awards Night
-Mah Sing Group – Sutera Rooftop Jazz Night, Sutera Avenue Topping Up Celebration & KK Jazzfest Media Launch
-Jotun Champions League Gala Dinner
-36th Anniversary of the Society for the Sabah Heart Fund Celebration
-Namlifa AKARD Award Recognition Night
-Sabah Suria Fashion Week, Carlo Rino Fashion Show
-BMW Launch Event
-Sabah Society Anniversary
-Johan & Fazar Birthday-Anniversary
-36th National Art-Song Solo Competition, UMS Recital Hall
-S4 Series with Asif & the 4 Notes @ Shenanigans Fun Pub
-Asif & René Jazz Duo Debut @ Fresco restaurant
-Fresco Jazz Nights
-Youth Arts
-Ming Garden Jazz Nights
-Langkah Syabas Sunday Brunch
-MYNT Club Sunday Sunset
-Pacificity Christmas Celebration
-Marine Awareness Month 2012 show with Ronan Keating at Bunga Raya, Gaya Island
-New Years Eve at the Goodwood Park Hotel, Singapore
-YB Datuk Seri Panglima Masidi Manjun Birthday Celebration
-Miss Scuba International
-Terry & Stephanie, Magellan Sutera Harbour
-Wilson & Dr Natasha, Magellan Sutera Harbour
-Dr Chidam & Soo Ling, Reception, Hilton Grand Ballroom
-Leroy & Cayce, ROM Ceremony, Kokol Haven
-Kenneth & Daphne, Shangri-La Tanjung Aru Resort
-Willam & Jacqueline, Shangri-La Tanjung Aru Resort
-Spencer & Jeni, Shangri-La Tanjung Aru Resort
-Neil & Pauline, Shangri-La Tanjung Aru Resort
-Tengku Fuad & Shirley, Langkah Syabas
-Eldriana & Gareth Wedding
-Reynald & Sophia, Wedding
-Aileen & Anil, , Wedding
-Jack & Serena, Wedding
-Nicholas & Alisha, Wedding
-Fui & Jeremy, Wedding
-Alfred & Jhsie, Wedding
-Lester & Iwindah, Wedding
-Chang JR & Hong Lin, Wedding
-Ryan & Gwyneth, Wedding
-Stanley & Qolly, Wedding
-Jazz Festival Pre-Fringe event with the Jackfruit band, Hyatt Hotel
-Acoustic Jazz Night, Rumba in Le Meridien Hotel
-Jazz Festival Fringe event, Shenanigans Fun Pub
-2010 KK International Jazz Festival with the UMS Big Band, Sutera Harbour
-That's Life Album Launch featuring Asif Pishori on piano sponsored by the Sabah Cultural Board, Hyatt Hotel.
-Sutera Harbour 7K Run in aid of Special Olympics Sabah and the Sabah Thalassaemia Society
-5th Japanese-ASEAN Conference on Men's Health & Aging, Le Meridien Hotel
-JCI Intan Charity Dinner benefiting the YMCA Kota Kinabalu Deaf Club and the Sabah Society for the Blind
-Jazz Festival Committee Celebration Dinner, Vino in the Venetian
-World Hospice & Palliative Care Day Solo performance, Star City Event Centre.
-Toh Puan Rahimah's 80th Birthday Celebration, Guest Performance
-Official Launch of the Breast Cancer Support Association
-Gala Dinner & Charity Show with Peter Dicky Lee for SK St. John (M) Tuaran
-World Aids Day
-PALMA 2012 Sing A Malay Song Competition Finalist, RTM 2
-Borneo Big Band Guest Performer
-JKKN Christmas Open House at Pavilion Shopping Centre with Jaclyn Victor
-Mango Jazz Night
-KK City, Sabah Tourism, Marketing Video
-Sabah Energy Corporation, Corporate Video
-SabahFest, Narration
-SK DGII, Commercial
-September Housing Affordability, Corporate Video
-TYK Padas Farmstay, Marketing Video
-Shell Press Awards, Narration
-Kimanis Food Industries, Corporate Video
-Miri Country Music Festival, Commercial
-Environmental Education, Corporate Video
-SESB Renewable Energy, Corporate Video
-Kuching Waterfront Jazz Festival, Commercial
-East West One, Corporate Video
-SEC Sabah Development, Corporate Video
-NCT, Corporate Video
-Kinabalu Pink Ribbon, Narration
-Tun Mustapha Park Expedition, Documentary


-Malaysia Music Teacher Trainers College
-Lembaga Kebudayaan Negeri Sabah
-Novo Nordisk via Asia Ability
-Media Prima – TV3, NTV7, TV9, OneFM, FlyFM
-Petronas
-Lembaga Hasil Dalam Negeri
-Toastmasters District Conference Speaker
-Kinabalu International School