rene barrow solo performance
As a singer and performer, Rene Barrow is most well known for Vintage Pop & Jazz, often performing as a solo act, or in collaboration with other musicians and singers, such as Cheong Kok Ann's Jackfruit band, Funk bands Orégo and Khameleon, or with international Jazz pianist Asif Pishori in the Asif & Rene Vintage Jazz Band.

He has performed in the KK Jazz Festival, JB Arts Festival, Nanjing Jazz Festival, New Years Eve at Singapore's Goodwood Park Hotel, RTM TV2 PALMA competition, the Malaysian Christmas Open House at Pavilion Shopping Centre, and at 5-star hotel weddings internationally.
ASIF & RENE VINTAGE JAZZ & JIVE BAND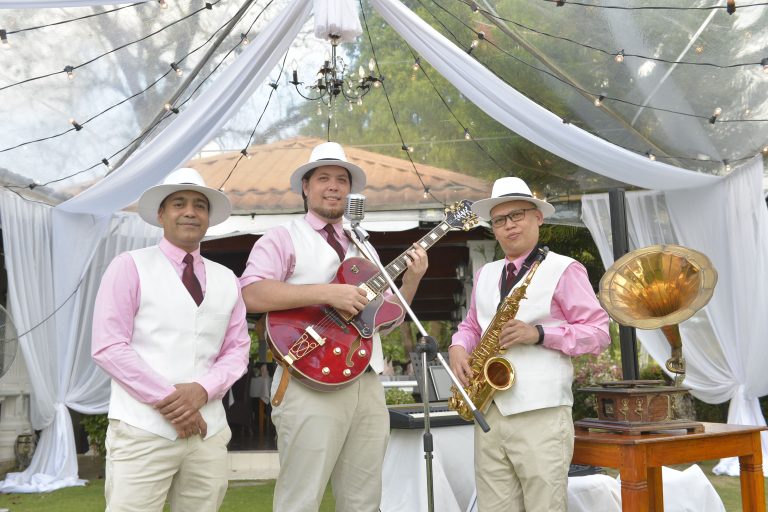 Inspired by the British Asian heritage of North Borneo's Colonial era, the Asif & Rene Vintage Jazz & Jive band don their boaters, bow ties and braces to re-create the fun and exuberant excitement of the Jazz Age and the tunes of the three Louis' – Louis Armstrong, Louis Jordan and Louis Prima.
Featuring a repertoire of old-school jazz from the 1920s to 1950s selected to get you on your feet and dancing, songs from our Vintage Jazz set include When the Saints, Hindustan, and Borneo Bay, while songs from our pre-Rock n Roll Jive set include Let the Good times Roll, Flip Flop and Fly and Jump, Jive and Wail!
For Weddings, the set list is reconfigured to focus on romantic standards like Under My Skin and I Could Have Danced All Night, as well as songs from Asif & Rene's 'Just Say I Do' album.
The band line-up ranges from a 3-piece featuring a saxophone and professionally made backing tracks, up to a 5-piece full live band featuring the sounds of 1920s period instruments like the banjolele, honky-tonk piano and tuba!
"Asif and Rene performed for our wedding in Kota Kinabalu .The planning, the music and the whole experience was perfect. We particularly liked the way they went all out to accommodate our special requests to make the experience "ours". Of course, their music is exceptional. We still go and see them perform, whenever we can. We consider ourselves fortunate to have had them there on our special day"
"I had the privilege of engaging Asif & Rene to play for my wedding banquet 2 years ago. From preliminary discussion till the event day itself,  everything went smoothly and effortlessly. Every details that were discussed before hand were all executed professionally on the wedding banquet. I commend and highly recommend any couple to engage them if you want true professional service! Bravo to them!"
"William and I hold the utmost respect for both Rene and Asif; first class musicians who provide a kind of service like no other.  We'd engaged Rene as our emcee and Asif as our pianist for our wedding in September.Together, Rene and Asif created an atmosphere of elegance and romance, exactly how I'd envisioned our reception to be.  The dynamic duo are full of ideas and are every bit accommodating, not shy of brilliant suggestions and definitely not short on romantic tunes.  William and I highly recommend Rene and Asif's services and suggest you engage their services together! Can't have one and not the other :)."
FOR ASIF & RENE VINTAGE JAZZ & JIVE BAND contact:
+6 019 813 5454 (Manager: Rory Richardson)